Leaky Faucet? Outdated Faucet? From Repairs To Installation, APEX Plumbing Has Your Back
Dripping faucets are wasteful and annoying. And when you've had a long day at work and the kids are performing their "refuse to go to bed" routine, every little annoyance can seem a lot bigger.
Extend your patience, calm your nerves, and solve at least one of your problems by having your faucet repaired by the licensed and insured Master plumbers here at APEX Plumbing.
We offer same day service, upfront pricing, and free estimates to our neighbors in Powder Springs, GA and the neighboring areas, and our experts have the experience and knowledge to quickly figure out what's causing your faucet to leak and fix it.
What typically causes a faucet to leak? Here are some of the most likely culprits:
Worn out or incorrectly sized washer

Worn out valve seat prevents proper seal

Worn out o ring prevents proper seal

Sediment buildup prevents proper seal

Pipe cracks/breaks affect water pressure and cause leaking/dripping
We keep our trucks stocked with these commonly worn out parts so whichever is causing the issue, we can replace it and have your faucet working like new in no time. We also have the expertise needed to repair or replace pipes, so if cracks or breaks are to blame, we can help with that as well. And of course if you want to go ahead and have the faucet replaced with something new, we can take care of that for you, too.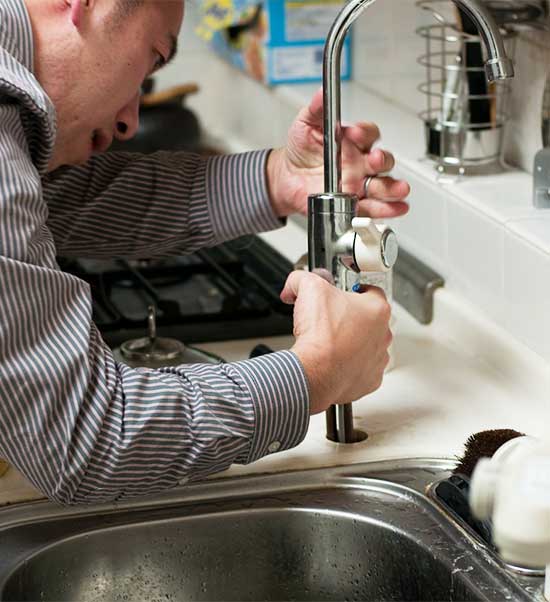 Thinking Of Giving Your Kitchen Or Bathroom A New Look? Start Small With A Faucet Replacement
Upgrading your bathroom or kitchen on a budget? Sometimes the smallest changes can make the biggest differences — like your faucet. Changing out your faucet can give your sink, shower, or bathtub a whole different style and transform the vibe of your space. Seriously, we've seen it happen!
So don't think that just because a big bathroom or kitchen remodel isn't in the budget, your hands are tied. Start small and have your faucets replaced with something that better fits with your aesthetic. We'd be happy to take care of installation for you.
Need to schedule an appointment with a licensed and insured, local plumber you can count on? Call APEX Plumbing at 678-756-7258 or reach out to us here on our website. We're happy to help.
Providing expert sink installation is an almost daily service for our kitchen and bathroom plumbing crews, so we know how to do it right.
REQUEST AN APPOINTMENT ONLINE
Apex Plumbing
4000 Fambrough Dr Ste 3
Powder Springs, Ga 30127