Make Sure Your New Sink Is Installed Right By Calling APEX Plumbing — POWDER SPRINGS Licensed & Insured Master Plumbers
You spend a lot of time at your sink — whether it's your kitchen sink or your bathroom sink — and you know how much the look and the experience affects your mood and your day…
Maybe your blood pressure rises every time you get out the extra large Pyrex or baking pan because you're already thinking about how frustrating it's going to be to try to wash it in your tiny kitchen sink…
Maybe you can't soak those hard-to-clean pots and pans anymore because of a crack in your sink, so you spend your evenings scrubbing and cursing like a sailor…
Or maybe your problem is with the bathroom sink…
Maybe there's never enough space for anything on your vanity other than your toothbrush and a bottle of hand soap — and you fantasize about having the space to lay out your makeup for your morning routine, without dropping and shattering your $60 foundation bottle on the bathroom floor…
Maybe you're ready to move on from the 60s, but thanks to your outdated vanity, your bathroom isn't…
It might seem like a small thing, but having a sink that's difficult to use or just unattractive and outdated can make your life harder and less enjoyable day in and day out. Why not do something about it?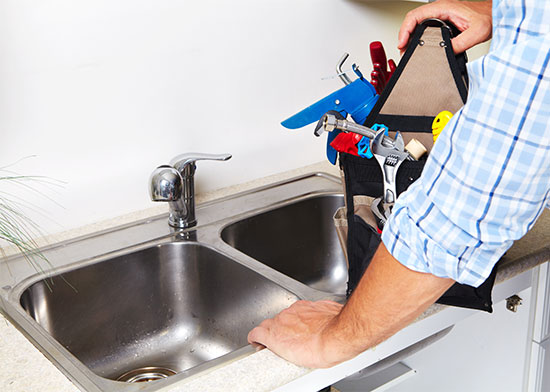 We'll Leave Style & Design Choices To You, Leave Plumbing & Installation To Us
With APEX Plumbing, your sink issues are a thing of the past. We specialize in sink installation and can make sure the new sink/vanity you have in mind fits with your space, and is installed properly so you don't have any "mishaps." And trust us, we've seen our fair share of innocent mishaps!
Sink installation isn't always so simple and straightforward, and if something goes wrong, you could end up with a big mess and the need for some pretty costly repairs. So we'll leave the style choices to you and you leave the installation to us so you don't have to worry about a thing.
What type of sink or vanity will you choose?
A farm-style kitchen sink?

A stainless steel, double-sided kitchen sink?

A his/hers double vanity for your bathroom that has more counter space than your first apartment?
We can even install a new mud room sink that'll make it easy to clean off muddy boots and other things you don't want in your kitchen sink. Or a wet bar sink so you can live the man cave dream and hibernate during your fav sport season.
Whatever you envision, it can be yours.
Call Today — We Offer Free Estimates, Upfront Pricing & Excellent Service
To request a free estimate or schedule an appointment with one of our licensed and insured Master plumbers, simply call 678-756-7258 and let our honest and experienced professional plumbers help you out. We're happy to take care of all your home plumbing needs with a smile.
Need a shower or tub repaired or installed? Let our kitchen and bathroom plumbing experts take care of it with no stress.
REQUEST AN APPOINTMENT ONLINE
Apex Plumbing
4000 Fambrough Dr Ste 3
Powder Springs, Ga 30127