Have A Leaky Or Broken Water Line Or Main Sewer Line? We Can Fix It Fast
Everything from leaks to water pressure issues, cloudy water, water bill spikes, and pooling water on your property can be traced back to a water line break or a main sewer line break. But the good news is, APEX Plumbing's licensed and insured Master plumbers can provide a solution fast.
The Signs & Symptoms Of A Water Line Break
A main water line runs throughout your home to supply clean water to different areas of your house. The water lines that feed your appliances and fixtures (like your sink and your refrigerator) connect to that main line so you have water on demand.
But when one of those water lines is leaking — be it a main line or a line running to an appliance or fixture — it can be a real nightmare. What kind of nightmare? One that features these problems:
Water damaged floors and walls

Low water pressure

Mold in your home

Damaged cabinetry
Fast & Effective Water Line Repair & Installation Is Our Specialty
The cost for water damage repairs can quickly add up, so it's important that the water line that's leaking or broken be located and repaired stat. We can help. We'll locate the leak and perform a water line repair that will last, saving you time, money, and frustration.
If freezing, bursting, or leaking is a common occurrence, we can even re-pipe the line to prevent future problems. And of course, we also specialize in water line installation. So if you're moving your laundry room from the basement to a first floor hallway, we can make sure the transition is seamless and uneventful.
When it comes to water lines, whatever you need, our licensed and insured plumbers can take care of it for you. And since we back all of our work with our 100% customer satisfaction guarantee, you'll never have to worry about us performing work that's not up to your standards.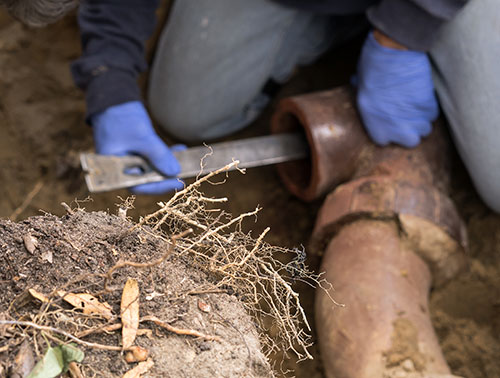 The Signs & Symptoms Of A Main Sewer Line Break
Your main sewer line runs underneath of your property. But because of its location, it's not always easy to identify when there are problems. A lot of times, main sewer line breaks look like water line breaks in terms of signs and symptoms. But they're very different things, so it's important that the right diagnosis be made.
Let's take a look at some of the most common signs of a sewer line break or leak:
If it seems you're always stocking up on Green Gobbler and you have repeat drain issues (like clogs and backups) with multiple drains in your home, it's likely that the main sewer line is the problem. When there's a break, blockage, or clog in the main sewer line, it affects more than just one area of plumbing, which is why you tend to see repeat issues with multiple areas of the home.
It sounds crazy, but tree roots can actually grow into your main sewer line and cause it to break, which is often to blame where pooling water on property is concerned. Of course, a break or crack due to other sewer line damage can also cause this to happen. The point is: if you haven't put in a swimming pool but you have an area of your yard that you could swim in, we may need to take a look at your sewer line.
When you head outside to smell the roses, if what you're smelling is more like sewage, then there's a good chance your sewer line is cracked, broken, or otherwise leaking. Obviously, unpleasant odor is enough of a reason to seek help, but it's also a health issue.
Depending on how close the break is to your home, you may also notice these issues:
Damaged floors and carpets

Damaged cabinetry or walls

Mold in your home
Whether You Need Your Main Sewer Line Repaired Or Replaced, We Can Help
Once we've confirmed a sewer line break, we can use our TV inspection equipment to identify exactly where it's located, so that we can make repairs without digging up portions of your yard or garden unnecessarily. That means a faster fix, with less of a mess and less disruption to your life. That's our goal here at APEX Plumbing.
If you need to have your entire main sewer line replaced or just a portion of it replaced as a results of damage or collapse, don't worry — we can take care of that as well. Our team has the experience, tools, and knowledge to get the job done right, so you don't have to worry.
Call Today For Fast Service You Can Rely On
If you live in Carroll County or a neighboring area and you're having unexplained issues with your plumbing or you suspect a water line or main sewer line break, call APEX Plumbing at 678-756-7258 to make an appointment with a licensed and insured Master plumber who can help. We offer same day service, free estimates, and upfront pricing, and we're committed to providing the very best solutions and the very best customer service. We look forward to working with you!
A residential TV inspection of your sewer and drain will help us diagnose any problem more quickly and accurately, so call us today.
REQUEST AN APPOINTMENT ONLINE
Apex Plumbing
4000 Fambrough dr Ste 3
Powder Springs, Ga 30127